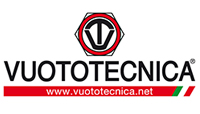 Vuototecnica®, now in its second generation and is among the leaders in Europe in technologies to create and maintain the vacuum.

It has a unique know-how for its breadth and articulation, matured in 40 years of work side by side with customers. Collaborate with leading companies and possess a broad repertoire of case histories has resulted in making the constant improvement the basic principle. That is why concepts such as "quality", "customized" and "flexibility" are considered acquired and now deeply internalized in the corporate culture. For customers it has long been a point of reference "problem solving".

A true engineering partner offering, even before great products, a wide range of ideas and solutions able to optimize production processes in many fields of application.

With a full range of vacuum components such as suction cups, vacuum pumps, vacuum generators, vacuum switches and a very talented team, it can provide the best solution for your needs.